China and France will & hydrogen power company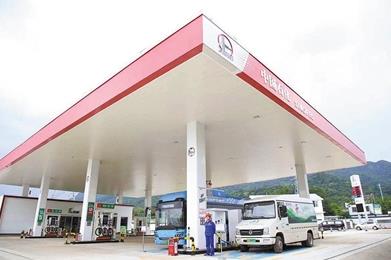 Sinopec foshan camphor oil pit & hydrogen station sinopec for figure
In China under the witness President xi jinping and French President marolon, chairman of China petrochemical Dai Houliang with air liquide's chairman and chief executive officer Mr Potier 6 on behalf of the company in the great hall of the people in Beijing signed the memorandum of cooperation, establish the hydrogen company, strengthen the hydrogen.
On Chinese petrochemical, set up the hydrogen company, dedicated to the hydrogen technology research and development, and network infrastructure construction, and the introduction of international advanced hydrogen enterprise as strategic investors, collaboration between the hydrogen ecosystem industry chain and the hydrogen economy. Alensa according to the memorandum of cooperation, will become one of China's petrochemical hydrogen stakeholders of the company, and jointly promote the hydrogen fuel cell vehicles as a whole solution of promotion and application in China.
Sinopec said that the hydrogen will become the active embrace energy revolution, active layout important direction of the strategic emerging industries. It is reported that sinopec is on the middle and lower reaches of the integration of the energy and chemical company, annual output of more than 3 million tons of hydrogen, has more than 30000 gas stations, with the natural advantages of hydrogen industry layout, in July 2019 in foshan built the first domestic oil & hydrogen station. China petrochemical capital company as sinopec to foster new kinetic energy, create a new engine of strategic investment platform, recently has strategic equity Shanghai reshape the hydrogen enterprise in China.
Method of air is the world's leading industrial gas production and service company, the hydrogen, liquid hydrogen production, hydrogen station infrastructure construction operations of technology and rich experience, has nearly 120 filling stations in the global construction, directly owned and operated filling stations nearly 60 seats, is the international hydrogen founding companies and the rotating chairman of the council.
Method of liquid air and sinopec currently has a joint venture for three industrial gas company. This cooperation, alensa will play in the hydrogen system, storage, transport, and the whole industry chain of professional experience, for China to develop hydrogen and hydrogen fuel cell to provide competitive supply plan. The (reporter QuJian) source: journal of science and technology