China's foreign trade prospers in 2019
Over the past year, what has China imported from other countries? A look at the shopping carts of Chinese consumers will tell you the answer.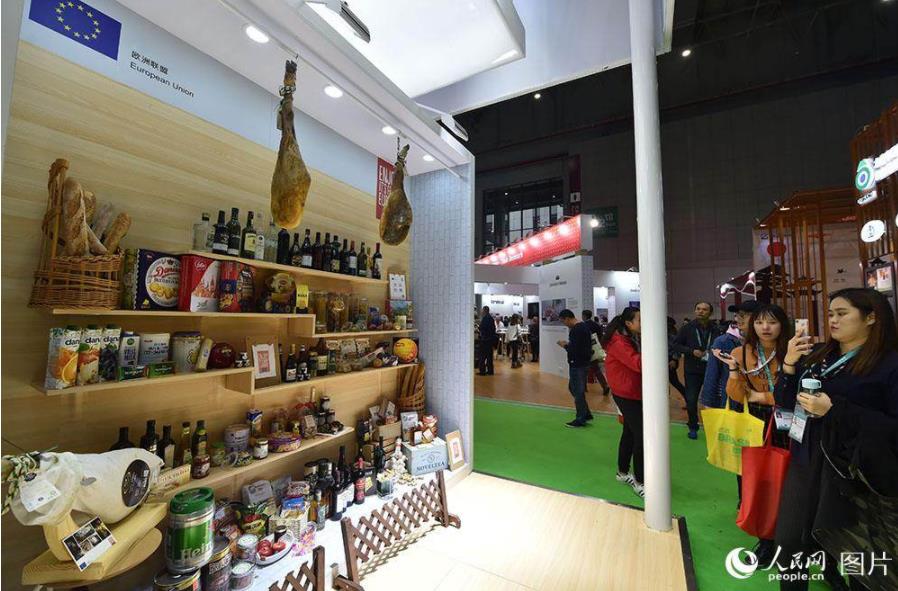 Foreign products displayed at the first China International Import Expo. (People's Daily Online/Weng Qiyu)
There are imported cherries, avocados, lobsters and king crabs, and many products. According to a report on China's import food industry in 2019, China is now importing from 185 countries, and the retail volume of import market has exceeded 1 trillion yuan. The import scale of seafood, meat and dairy products has all surpassed $10 billion and the momentum for growth is still strong.
There are also high-tech and innovative products. In the first three quarters of the year, the value of high-tech imports reached 3.3 trillion yuan, increasing by 14.8 percent. Throughout the year, the import of electronic vehicles increased 1.2 times and that of consumer products by 19 percent, according to an analyst from the General Administration of Customs (GAC).
At the end of 2019, China approved an import port of drugs in Zhengzhou, central China's Henan province, which is expected to deliver more cost-effective drugs to patients at a faster speed. In the same year, the import of vaccines grew by nearly 90 percent, and that of drugs by 25.8 percent.
Last year, Chinese companies exported 17.23 trillion yuan worth of products and services, an increase of 5 percent. The price index of exported Chinese products surged by 2.8 percent and that of imported products by 1.4 percent, and the index of trade conditions stood at 101.4 percent, according to Zou Zhiwu, deputy head of the GAC, adding that it indicates that the trade competitiveness of Chinese products is on the rise.
The competiveness is seen from many aspects. The first is expanding global market share. Yiwu, China's market of small commodities, exported 35.7 billion yuan worth of Christmas products in the first 11 months of the year, increasing by 32.6 percent year on year.
Behind the small products is strong power of foreign trade. According to WTO statistics, in the first nine months of 2019, the global market share of China's mechanical and electrical products rose by 0.2 and 0.9 percentage points, respectively.
The added value of Chinese exports is higher and the import of products with high added value maintains strong momentum. Last year, the exports of integrated circuits grew by 25.3 percent, solar batteries by 47.5 percent and metal working machines by 15 percent.
Chinese enterprises have made remarkable achievements in brand building. Last year, the export value of self-owned brand reached 2.9 trillion yuan, an increase of 12 percent, and 1.1 percentage points higher from 2018.
The reason why China's foreign trade keeps steady growth over the last year amid a slowing global economy and rising domestic and external challenges is that the country's economy is stable and resilient and the policies are effective.
For the first time, private companies replaced foreign-funded companies to become the major foreign trade player by accounting for over 50 percent of the exports last year.(People's Daily Online)